Homeschool Legacy
has created awesome history and science themed Once-a-Week Unit Studies for grades 2nd and up!  These affordable studies have no prep work, are easily incorporated into your schedule, Biblically based, flexible, comprehensive, interactive and can be used to earn Boy Scout and American Heritage Girl badges!!
Since my 11 year old would be the one doing this unit study, I let her pick the topic. She choose
Weather on the Move
.  After reading the author's purpose in writing these studies, I knew it would be a good fit for our household.
"In creating Once-a-Week Unit Studies, I wanted to offer an easy way for anyone to incorporate unit studies in their weekly schedule with the least amount of preparation on their part.  With that in mind, I have laid the ground work for you by providing step by step instructions and have designed it to be used, as its name implies, only one-a-week."  -Author Sharon Gibson from Weather Once-a-Month Unit Study
This 7 week weather study beautifully incorporates Bible, literature, history, science, geography, research, arts and crafts, life skills and field trip suggestions.  Four different titles are equal to a full year's credit, though upper grade levels will need to add lab sciences.
Included is a suggested schedule which schedules one day of the week with the bulk of activities as your unique "unit study day".  However, you are encouraged to use whatever schedule works for your household.
After printing off the long list of suggested reading books, we were off to the library. Since our local library didn't have many of the titles, I made some substitutions.  Though these books are not essential to the study, they do augment learning.
After my daughter set up her Weather binder, I transferred my digital copy of
Weather on the Move
to my Kindle and we proceeded with
Week #1 and Meteorology.
In this first lesson we learned some general terms and started a weather log.  Our literature focus was
Robinson Crusoe
and how storms can change lives.
Week #2
had us focused on
The Sun
.
Starting with what the Bible says about the sun, we also read about THE Son!
For our first experiment we did an activity that shows the Sun's uneven heating of the Earth's surface.
Next we researched a few "ancient weather heroes" and worked with a thermometer in a variety of environments.
Learning about the heat index sparked some good conversation.  Living in the topics,  humidity is always present!
Our family time activity for this week was to go star gazing.  And, that doesn't even hit all of the activities listed!
Week #3 and The Atmosphere
.  Wow!  This is one packed chapter!  It is noted that there are more than the usual amount of activities in this section, so we planned for extra time.
After the devotional, we learned that air indeed does have weight. And a favorite experiment was making our own barometer.
It seemed to actually work for a few days as compared to the actual barometric pressure readings!
We also discussed Wind Chill, had a try at making a weather vane and discussed the poem, "Who has Seen the Wind."
Week 4 and The Water Cycle
Starting this Unit Study day, we discussed some rather interesting weather idioms and then I turned my kids loose to construct rainbows.  One with oil pastels the other with chalk.
Next, my daughter drew her interpretation of the Water Cycle.
And then we made it rain!!!
This was followed by watching
Singing in the Rain
, our family time activity!
Week 5 and Frozen Precipitation
.
This week's topic proved most challenging to teach.  Living in the tropics, my kids have seen snow in pictures or on tv!
This section has some awesome experiments for areas that experience snow!  As for us, we learned the difference between sleet, freezing rain, hail and snow.
We did enjoy learning more about "Snowflake" Bentley and his wonderful snowflake art!  Unfortunately illness postponed our field trip to the ice skating rink for a later date.
Two more weeks remain in this study covering clouds and extreme weather.
Final thoughts about Weather on the Move Once-a-Week Unit Study by Homeschool Legacy
Though I primary worked with my 11 year old, my 6 year old enjoyed the picture books, experiments and being included with his older sibling.
This was a fun and easy to do learning time.  We are looking forward to the next two weeks and the strong possibility of doing more of these unit studies in the future.
My only negative comment is that hurricane season is mentioned as being from June - December.  It's actually May - November.
Check out what other crew members are saying about these all-inclusive, easy to navigate and affordable Once-a-Week Unit Studies from Homeschool Legacy!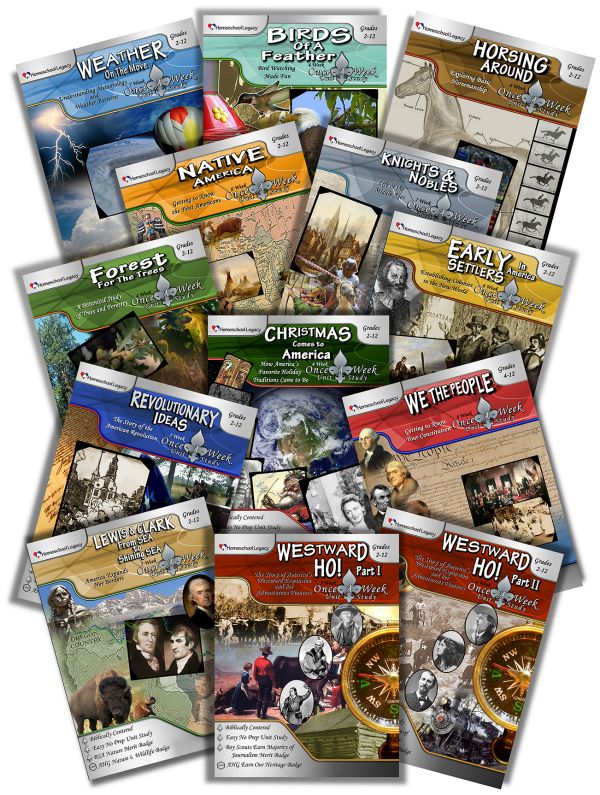 Connect with Homeschool Legacy on
Facebook
,
Twitter
and
Pinterest
.