S is for Smiling Sunrise
 from WordsBright is a unique ABC book that teaches positive concepts and values in conjunction with the 26 letters of the alphabet geared towards preschool through early readers.
Author, entrepreneur and scientist,
Vick Wadhwa
developed this book and accompanying downloadable curriculum after noticing his daughter's boredom with the same old ABC rhymes "A is for apple"...and so on.  These rhymes were created for vocabulary, language and character development as well as for fun and parental engagement.
 "Overall the intention of this work is to communicate universal values of goodness, beauty and wonder, in a way that speaks to both children and adults." -Vick Wadhwa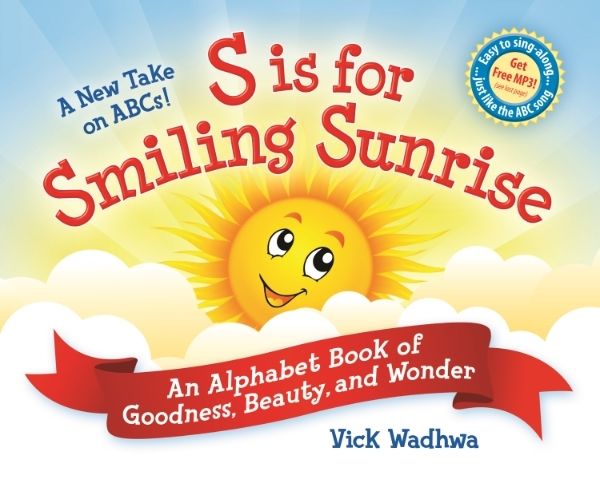 An accompanying audio version AND two downloadable curriculum guides are also available.
The first is a 
Pre-K guide
geared towards toddlers and preschoolers.  This guide focuses on the letters and sounds themselves, the rhythm and rhyme of that letter and utilizes related hands on activities.
The next is for
Kindergarten through 3rd
.  Many of the concepts presented are intended to be discussed over multiple sessions and are a great way to open up communication between parents and child for a variety of subjects!
K-3 Teaching examples for before or after reading...
Goodness - What is the difference between good and bad behavior?
Beauty - Is beauty only outside, or is it also inside?
Wonder - When we are full of wonder, we feel wonderful.  What makes you feel wonderful?
As a bonus, 10% of net earnings from the sale of
S is for Smiling Sunrise
will be given to health and education projects for disadvantaged children!
This book and curriculum meets and exceeds Common Core Stands.
Our Experience with S is for Smiling Sunrise
This colorful hardcover book is written from a perspective different than ours.  Despite these difference in moral foundation and viewpoint it did provide opportunities for discussion with my 5 year old and further with my older children.
L is for leaves....
Q is for quiet....
J is for Jewelry.....
W is for words....
While my 5 year old has already mastered his ABC's, it did inspire some good, God-centered discussion on creation, morals and the world around us.  I did like the variety of suggested activities for each letter and think they would be easy to implement no matter what other curricula a parent was utilizing.
In the end it was a thought provoking experience for my children and myself!
Check out what other crew members are saying about S is for Smiling Sunrise!